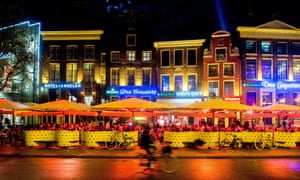 In what was already a long-running purple patch for the Dutch cycle industry, domestic sales records have been broken in the last 12 months despite spiralling prices, as technological developments push the standard push-bike into the annals of history.
The Dutch love affair with the bicycle is well chronicled – there are 22.5m of them in a country of 17 million people – but has moved up a level, according to a study by the RAI Vereniging, an organisation representing the automotive and cycling sector.
More than 1m bicycles were sold last year in the Netherlands, up 5.7% on 2017, and at the same time Dutch consumers appear willing to spend big on their bicycles, particularly on e-bikes, statistics show.
E-bikes accounted for €823m of €1.2bn in bicycle sales in 2018. It was the first year that overall sales past €1bn and the first time more e-bikes were sold than standard bicycles. In terms of units, 409,400 e-bikes were sold, up 40% on 2017. As a result the average price of a bicycle in the Netherlands rose by about €200 to €1,207. In 2011 the average was €734.
Asked whether rising prices would begin to put the Dutch public off the two-wheeled mode of transport, RAI's Floris Liebrand said: "Not in the Netherlands. It is in our culture, in our blood.
"We are bike country No 1 in the world so we are used to investing in innovative bikes so there is difference there compared with other countries, including the UK.
"For us it quite normal to spend €1,000 on a bike. An average for an e-bike is over €2,000 but that is in our culture. We believe in the quality of our products. There are e-bikes of €700 or €900 but they are from south-east Asia and the quality is lower."
The buoyant sales are partly being put down to the good weather of the summer of 2018.
But Liebrand said there had been a change in the Dutch mindset as electric bikes have moved on from being seen as the choice of older people. "In the future we will not talk about e-bikes, but just bikes," he said. "E-bikes will be the new normal, I think, within 10 to 15 years. We think that all bikes will be supported by small engines.
"In the Netherlands, 60% of those who work live within 15km [9.3 miles] of their work and that is perfect for an e-bike.
"There are consequences. We have fewer traffic deaths but an increase in severe injuries because people cycle more and [are also doing so] when they are older. People cycle when they are 80."
The RAI Vereniging is pushing for an increase in investment before provincial elections on 20 March.
We made a choice…
… will you support it today? Our journalism now reaches record numbers around the world and more than a million people have supported our reporting. We continue to face financial challenges but, unlike many news organisations, we haven't put up a paywall. We want our journalism to remain accessible to all, regardless of where they live or what they can afford.
This is The Guardian's model for open, independent journalism: free for those who can't afford it, supported by those who can. Readers' support powers our work, safeguarding our essential editorial independence. This means the responsibility of protecting independent journalism is shared, enabling us all to feel empowered to bring about real change in the world. Your support gives Guardian journalists the time, space and freedom to report with tenacity and rigour, to shed light where others won't. It emboldens us to challenge authority and question the status quo. And by keeping all of our journalism free and open to all, we can foster inclusivity, diversity, make space for debate, inspire conversation – so more people have access to accurate information with integrity at its heart.
Guardian journalism is rooted in facts with a progressive perspective on the world. We are editorially independent, meaning we set our own agenda. Our journalism is free from commercial bias and not influenced by billionaire owners, politicians or shareholders. No one steers our opinion. At a time when there are so few sources of information you can really trust, this is vital as it enables us to give a voice to those less heard, challenge the powerful and hold them to account. Your support means we can keep investigating and exploring the critical issues of our time.
Our model allows people to support us in a way that works for them. Every time a reader like you makes a contribution to The Guardian, no matter how big or small, it goes directly into funding our journalism. But we need to build on this support for the years ahead.
["source=theguardian"]