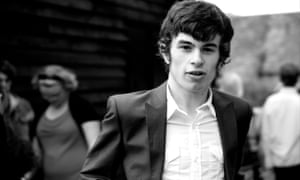 A consultant psychiatrist has admitted failing to spot warning signs before a vulnerable teenager suffered a seizure and drowned in a bath at an NHS care unit.
Dr Valerie Murphy said she now accepted that Connor Sparrowhawk, 18, had at least two epileptic seizures in the weeks before his death.
The psychiatrist conceded that at the time she had "closed her mind" to the possibility and disagreed with concerns raised by Connor's mother.
The teenager, who had epilepsy, autism and learning difficulties, had a seizure and drowned in the bath at Slade House, a now-closed NHS facility in Oxfordshire, on 4 July 2013.
At a medical tribunal on Wednesday, Murphy was asked why she had changed her clinical opinion about two previous epileptic seizures Connor is believed to have had weeks before he died.
She replied: "Time, reflection, further studies. At the time after Patient A [Connor] died it was a very stressful time. I don't think I gave it enough head space."
Becoming tearful, Murphy added: "And I got it wrong."
Murphy, who was the lead clinician in charge of Connor's care, gave evidence in her defence on the fourth day of a medical practitioners tribunal service hearing in Manchester.
The psychiatrist, who now practises in Cork, Ireland, on Monday admitted a string of failings but she denies misconduct.
The tribunal previously heard that when Connor was admitted to Slade House on 19 March 2013, a plan was drawn up to observe him every 10 minutes because of his epilepsy. But a month before he died, Murphy approved a decision to reduce the frequency to once an hour.
Giving evidence on Wednesday, Murphy insisted she meant that his psychiatric observations should be reduced and that observations for epilepsy would remain unchanged.
She said Connor should not have been left to bathe unsupervised. "I think there should have been one-to-one [observation]," she said, when questioned by Chloe Fairley, representing the General Medical Council.
Murphy said she did not know what arrangements were in place to check on Connor while he was bathing, which he sometimes did for up to three hours a day.
She added: "Anybody who has epilepsy, you never know when the next seizure is coming. The fact there's epilepsy there means they're at risk at any time, in any place, and you may be unaware of the triggers. You have to take it as a standalone risk."
Murphy was questioned about two separate occasions when Connor, who was affectionately known as Laughing Boy (LB), is believed to have suffered unwitnessed epileptic seizures at Slade House.
On the first occasion, on 20 May 2015, Connor bit his tongue and was later assessed as being lethargic, two possible indicators of a seizure.
Murphy told the tribunal that another nurse had witnessed Connor bite his tongue and believed that it had been in anger.
The tribunal has heard that Connor's mother, Dr Sara Ryan, visited her son later that day and immediately raised concerns with nurses that he had suffered an epileptic seizure.
She was subsequently reassured by email that epilepsy tests would be undertaken and a monitor placed in his bedroom overnight to spot any further signs of seizures.
However, the tribunal has heard that by the time he died nearly two months later those tests had not been undertaken.
In the other incident, on 15 June 2013, Connor was found with a bloody nose after taking a bath. When questioned by a nurse, Connor said he had been punched in the face.
In medical notes read to the tribunal, a nurse said she thought it "unlikely" that Connor had been struck in the face while alone in the bath.
Asked whether the incident should have raised alarm bells, Murphy said: "It should have. I didn't pick up on it. I can't explain why I didn't. It should've been an alarm but it wasn't."
Again becoming tearful, she added: "If it had been, we probably wouldn't be here."
On the day Connor died, 4 July 2013, a nurse said he popped his head around the bathroom door to check on Connor about 10 minutes after the bath had been run. The two did not speak but the teenager seemed fine, he said.
About 20 minutes later, a fellow staff member told the nurse that Connor was submerged and his face was blue. He was pronounced dead in hospital.
An inquest jury in 2015 found that a number of serious failings by Southern Health NHS foundation trust had contributed to the death of the teenager.
[Source"indianexpress"]