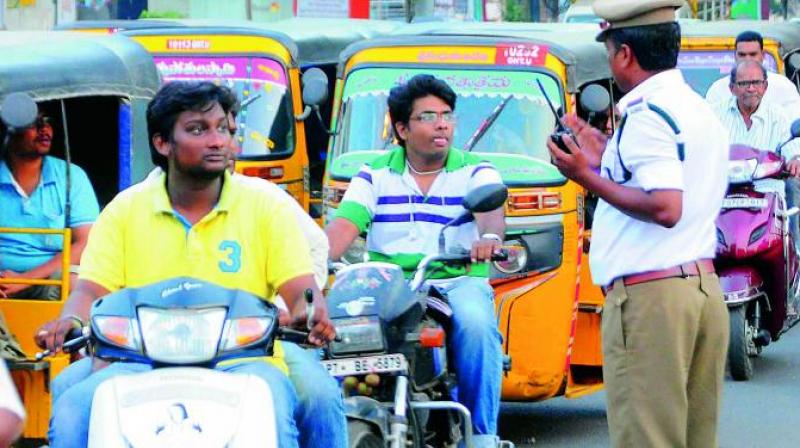 Hyderabad: Despite the efforts of the Hyderabad Traffic Police to curb driving by minors, two children were caught by traffic police on Tuesday morning driving to St Joseph School on a bike.
The 12-year-old who was driving didn't have a helmet even; his younger brother was riding pillion. The Malakpet traffic police, who stopped the children near the Musarambagh TV tower, dropped them off at their school and seized the bike and told the parents to come and collect it. Malakpet traffic police say they have caught around 45 minors driving in this area in the past three months.
After some major accidents in the city involving minors, the Hyderabad traffic police had caught and counselled thousands of minors, charge-sheeted the parents and produced them in court.
Around 2755 minors were booked in 2016 and `7,23,900 was collected in fines. In 2017, 1,026 cases have already been booked against minors in just three months, which shows that the number of such offences is on the rise.
Road safety activists in Hyderabad blame parents. S. Adishankar, secretary of the NGO Roadkraft, says parents encourage it. "They feel very proud when their 10 or 12-year-old drives. Just go to any school in the morning… you will see lots of children coming in two wheelers, which is very dangerous."
Traffic DCP A V Ranganath says minors are being prosecuted and parents are being charge sheeted since the last one year. "Parents complain that children are not listening to them. Minors driving is increasing because of pampering of children by parents."
Seventeen-year-old Bommarathi Shanmai Patel, who was caught driving in 2016 and was counselled by the traffic police, says he is shocked to know that even 12-year-old kids are driving to school on bikes. "I seriously think the government should implement strict rules against minor's driving. I attended the counselling sessions conducted by the traffic police and I found it very useful," he said, but agreed that it doesn't always work.
[Source:-decanchronicle]