Several BJP leaders, including Shobha Karandlaje, were detained by the police as the BJP began its 'Mangaluru Chalo' bike rally in Bengaluru on Tuesday. The BJP has mobilised its youth workers for a bike rally to protest 'political killings of Hindus' in the region.
Stay tuned for live updates:
Sep 5, 20171:51 pm (IST)
The Congress farmers cell is protesting in front of BS Yeddyurappa's house and are demanding a 'Delhi Challo':
Sep 5, 20171:43 pm (IST)
Over 200 bike riders who successfully reached Freedom Park in the city, despite severe nakabandi on all roads leading to it, went ahead with the bike rally. The police dragged out the activists and seized the bikes. Over 500 activists including former Home Minister R Ashoka, Shobha Karandlaje and Mysuru MP and BJP Yuva morcha president Pratap Simha were taken into preventive custody by the police.
Sep 5, 20171:42 pm (IST)
Former Karnataka home minister R Ashoka said that there were 175 cases against over 1600 workers of PFI and SDPI in 2013 when the Congress came to power. "The first thing Siddaramaiah did was to withdraw all these cases in 2015. This gave them a moral boost and from 2015, the organisation's role is clear in at least eight murders of pro-Hindu activists. We demand that all these cases be handed over to NIA," said Ashoka. "The clamp down clearly shows that the State government is terrified of the BJP's support and organisation in the state."
Sep 5, 201712:18 pm (IST)
R Ashoka and other BJP leaders have blocked traffic near Freedom Park. Meanwhile, BJP's S Prakash is under detention.
Sep 5, 201712:10 pm (IST)
Shobha Karandlaje Detained#
Shobha Karandlaje has been detained. Women police officials dragged her and put her in a bus. BS Yeddyurappa will likely step out after 1 pm. Meanwhile, Anant Kumar Hegde wanted to reach Manglaore by tomorrow or day after and he has been stopped at the Mangalore airport.
Sep 5, 201712:08 pm (IST)
"We don't have a problem with a rally, but don't conduct a bike rally. This will end up blocking roads. The protestors are using very provocative words, if they claim to be a political party, then they should try to uphold harmony. If they want to walk, they can do so. But using bikes will block roads. Ask them to march to Delhi, let them ask for loan waiver and nationalised banks – we will go with them," said CM Siddaramaiah.
Sep 5, 201712:01 pm (IST)
"The day BS Yeddyurappa was announced as CM candidate, Siddaramaiah's story was over. We will conduct 10 more rallies like this, even if there are 10 Siddaramaiahs like you, you cannot do anything to BJP. We will win in Karnataka too, and get justice for Hindus and their rights. You can stop us here, or at different places, but you cannot stop us from Mangalore. How many will you arrest? Lakhs will come. The DCP asked me if I have a driving license and insurance. I asked him if he had a warrant," said R Ashoka.
Sep 5, 201711:43 am (IST)
Groups that were starting out from different places have been stopped on the outskirts of Bengaluru. Few of the protestors have been detained.
Sep 5, 201711:09 am (IST)
Sources say that BS Yeddyurappa has decided to go to Freedom Park, although, he's still at home. Police fear that his arrival might lead to more trouble. Meanwhile, the BJP along with other demands, want resignation of forest minister Ramanath Rai who hails from coastal Karnataka.
Sep 5, 201710:55 am (IST)
CLICK TO READ | Denied Permission, Defiant BJP to Press Ahead With 'Mangaluru Chalo' Bike Rally
The BJP has planned to mobilise 20,000 of its youth workers for a bike rally to the coastal town of Mangalore to protest "political killings of Hindus" in the region.
Sep 5, 201710:45 am (IST)
BJP activists readying up to leave for Mangalore on their bikes: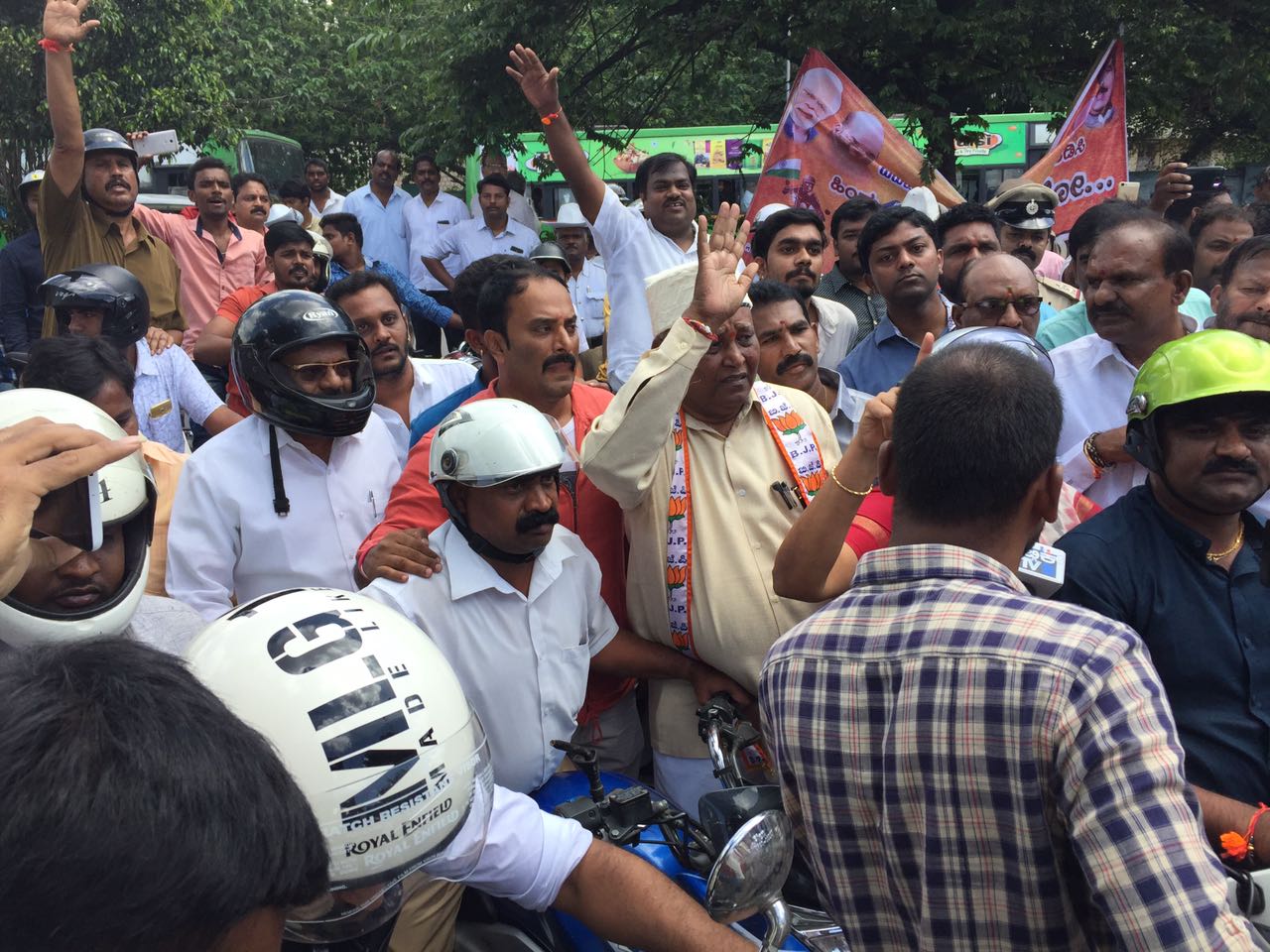 Sep 5, 201710:28 am (IST)
BS Yeddyurappa's office has confirmed that he will not be taking part in the rally or flagging it off. Former deputy CM R Ashoka takes his spot.
Sep 5, 201710:23 am (IST)
BJP leaders ahead of the Mangalore bike rally: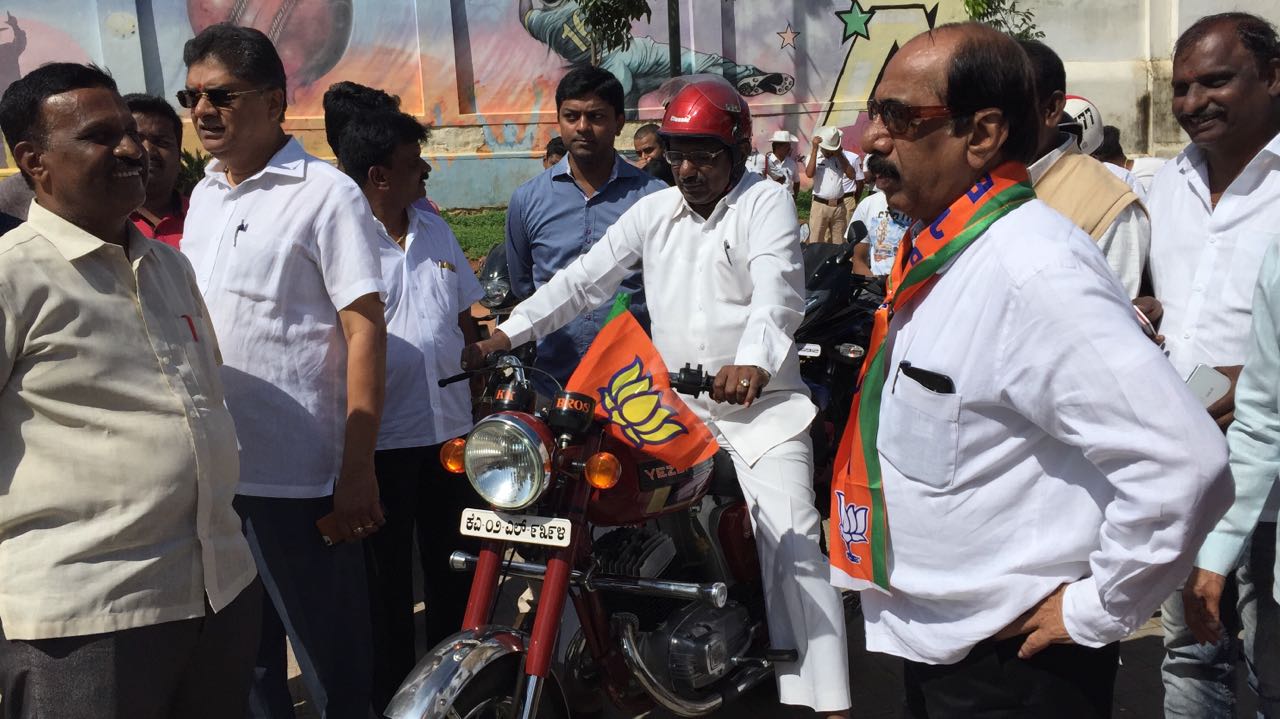 ["Source-timesofindia"]