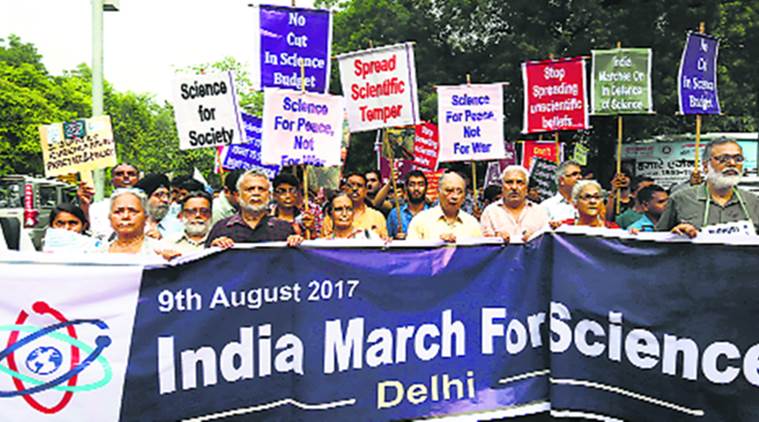 In the first of its kind mobilisation by the scientific community, several hundred scientists and students from top institutions staged marches in more than 25 cities to raise voice against "propagation of unscientific, obscurantist ideas and religious intolerance" and stifling of funds for scientific research. The marches were held in Delhi, Mumbai, Kolkata, Pune and Bhubaneswar among other cities.A few institutions asked their scientists not to participate in the 'March for Science'.
A mail sent out by the office of the director of Delhi-based CSIR-Institute of Genomics and Integrative Biology (CSIR-IGIB) asked its scientists to stay away from the march. "I am directed to inform all the members of CSIR-IGIB that they are advised not to take part in the March for Science that is being organised tomorrow," the mail said on Tuesday. IGIB is in additional charge of Sanjay Kumar, director of Palampur-based CSIR-Institute of Himalayan Bioresource Technology. He could not be contacted and his office in Palampur said he was travelling. A source in CSIR headquarters, however, said there was no such direction from the top.A few other heads of institutions had also been circumspect about their scientists participating. Director of Pune-based NCCS Shekhar Mande had told The Indian Express a few days ago that although he agreed with some of the concerns raised by his peers, a publicly funded research laboratory like his should not "go against the government".
The event was modelled on a similar march organised in about 600 American and European cities on April 22 this year, calling for more "robust funding for science" and "demanding that the governmental policies be guided by scientific evidence". In Mumbai, more than 200 scientists participated in the march. "The rally is not just to demand more funds for science. It is time scientists come together to speak about the shift we are seeing in government funds for unscientific research," said Aniket Sule, astrophysicist attached with the Homi Bhabha Centre for Science Education.N Krishnan, scientist with Tata Institute of Fundamental Research (TIFR), said, "Funding is seen as a way of controlling. We have to beg for funds for a process which should not be controlled by an entity that does not understand the process of research." He said scientists were forced to protest openly because they perceive there is an attack on science. In Pune, more than 600 students, scientists and social activists marched the streets.
Maharashtra Andhashraddha Nirmoolan Samiti's Hamid Dhabolkar, son of slain anti-superstition activist Narendra Dhabolkar, said his late father would have been happy to witness such a march. "My father worked tirelessly all his life to eradicate superstition. He taught people to reason and question. I am elated to see the younger generation act responsibly and take to the streets for their rights…," he said. With ENS, Mumbai, Pune
[Source"indianexpress"]