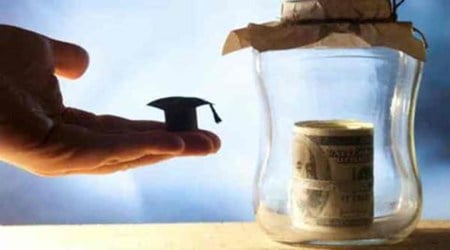 Around 75 students belonging to backward classes who are currently pursuing higher education at foreign universities are facing uncertainty and embarrassment owing to a long delay by the state in releasing their "scholarship funds". Without funds, these students are facing hurdles in finding accommodation and affording proper meals.
These 75 students were selected for masters and PhD programmes at universities abroad under the 'Rajarshi Shahu overseas scholarship' offered on the occasion of the 125th birth anniversary of Dr B R Ambedkar.
These students are now anxiously waiting for the state government to release the 'Overseas Scholarship' 2016-17 so that their education is not affected. Students have alleged that the scholarship money that they should have received by February is yet to arrive.
Embarrassed about the non-payment of fees for over five months at their respective universities, students are now planning to write to the chief minister of Maharashtra.
One such student, Milind Datta Ahiwale, who is pursuing MSc Finance at the University of Southampton, has written to the commissioner of Maharashtra Social Welfare department. In his letter, Milind stated that he and eight other students have run out of money since the past two months. "We have written to the officials of the Social Welfare department over 20 times in last three months. However, all we have received is vague replies. Even our universities have been writing to the department, but they received no reply," said Milind.
Another student from the University of Manchester said: "We have completed one semester and submitted the enrolment letter at the university along with our marks in written exam conducted by the university. However, the funds have been delayed and there is no correspondence from the university. We are borrowing money from friends and relatives to sustain. While our universities are letting us continue our courses without us paying the fees, there are a few Indian families in Southhall and Glasgow who are helping us with accommodation but their places are far from our universities."
These students claim that their parents are now taking loans by pledging gold to private money lenders. Milind added, "I feel really very sad that my own country is not helping me, while a country which I do not belong to is letting me continue my course."
Meanwhile, officials of the Social Welfare department blamed the students for the delay in funds. "These students have to follow up with their respective universities to submit their attendance and academic progress report along with utilisation of funds disbursed before the first semester. Many of these students failed to send these documents on time and hence the delay. We are following up the matter and it will be resolved soon," said Vijaya Pawar, joint commissioner (education section) of the Social Welfare department.
Students, however, have rejected these claims by officials and said their universities have not once but multiple times submitted these documents.
According to a former scholarship student, this is not the first time that scholarship funds have been delayed .
"I too had got the scholarship in 2013. Till that year, the Maharashtra Social Welfare department released scholarship fund at once in the beginning of the academic year. Post 2013, the department had changed this system and a decision of releasing the fund in two parts was taken. While the first part is released in the beginning of the academic year, the second part is released only after students submit documents proving their academic progress, attendance and utilisation of funds. They have been delaying the funds," said Siddhartha Prabuddha, former scholarship student from Cardiff Business School.
[Source"indianexpress"]