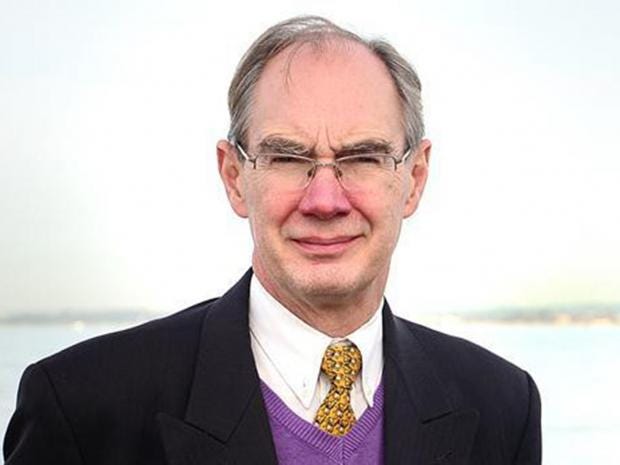 Conservative MP Andrew Turner will stand down at the general election after a pupil at a school in his constituency wrote on Facebook that he had described homosexuality as "wrong" and "dangerous to society".
The 63-year-old is said to have made his comments while visiting politics students at the Christ the King College in Newport, Isle of Wight.
Mr Turner has been the MP for the Isle of Wight since 2001.
Student Esther Poucher, an LGBT campaigner, posted on Facebook that she had been "truly shocked" when he said he would not be attending an Isle of Wight Pride event.
She wrote: "He told us that he'd been invited, but wasn't intending to go. This is because (and this is a direct quote) he thinks that homosexuality is 'wrong' and 'dangerous to society'.
"At this answer, I had to leave. It's terrifying that in this age and point in our development as a society, there are still people that can't care enough about a person's wellbeing to just accept who they are."
She added: "Yes, we all believe different things, and that's wonderful. But when that belief treats a group as sub-human, and attempts to take away their fundamental rights, we can't respect it."
Mr Turner said in a statement: "It has been my privilege to serve the people of the Isle of Wight as their Member of Parliament.
"I have been incredibly fortunate to represent such a beautiful constituency. After 16 years I have come to the decision that it is time for a new generation to take up the mantle of representing my fantastic constituents.
"I am grateful for the support I have received from islanders and proud of the record that Conservatives have in delivering for the island.
"In the forthcoming election I will be supporting the Conservative candidate to ensure the strong and stable leadership of Theresa May is returned to Downing Street."
Isle of Wight Pride said in a statement posted on Twitter: "Any person who makes such a statement in a public forum as our MP is dangerous.
"Suicide rates amongst LGBT young people are still disproportionately high. Mr Turner did not know if anyone in the room was struggling with their sexuality or gender identity and he does not know how his comments may have impacted on those present."
Labour shadow minister and elections chairman Andrew Gwynne had called for Mr Turner to be suspended as a Tory candidate and said: "These allegations are deeply worrying.
"There is no place for bigotry and hatred like this in modern society, and no one holding these views is fit for public office.
"I look forward to Theresa May doing the right thing and speaking out against these homophobic allegations and show that she is now serious about LGBT equality."
Vix Lowthion, candidate for the Green Party for the Isle of Wight, which came third behind Ukip in 2015, said: "Andrew Turner was unfit to represent the Isle of Wight and his recent, abhorrent comments left his place in Parliament completely untenable.
"People here deserve someone who will stand up for them. Today the Green Party announced radical plans to protect LGBTIQA+ refugees, provide decent HIV protection and promote rights for intersex and trans people – that is the kind of politics people in the Isle of Wight need and only the Green Party can offer."
[Source:-theindependent]