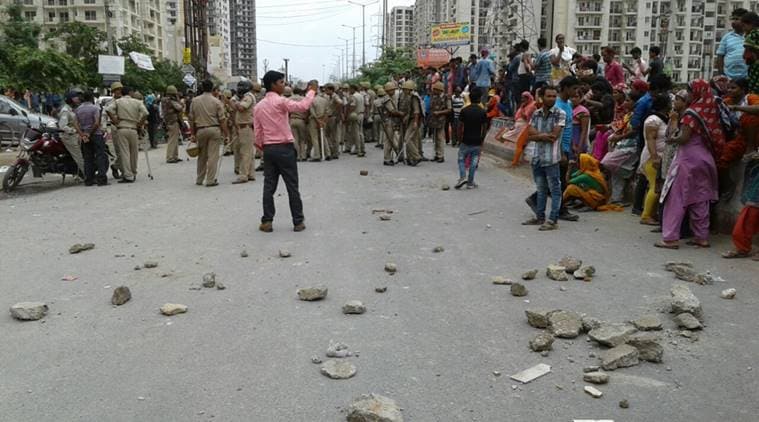 Noida police had to intervene after the local villagers barged into the premises of Mahagun Moderne in Noida's Sector 78 on Wednesday morning to protest against the alleged beating up of a domestic help by one of the residents. The protesters, reportedly neighbours of the woman, claimed she was allegedly confined at her employers' house earlier.
Video footage accessed by The Indian Express, showed security guards of the society and the protesters pelting stones at each other. In another clip scores of angry villagers can be seen forcing themselves past the security of the society with sticks in hands.
The protesters, it is learnt, had begun trooping inside the society at 7 am. They had also reportedly blocked the Dadri-Surajpur-Chhalera (DSC) road at Barola, leadind to halting of traffic near Noida Phase 2 Industrial Area. A police posse has been deployed outside the apartment after the incident and trying to bring the situation under control. Superintendent of Police (city) Arun Kumar Singh was quoted by Hindustan Times as saying that the protesters were angry over the domestic help allegedly being beaten up.
A Facebook post identified the help as 26-year-old Zohra. The post claims that Zohra was missing for a day following a fight with her employer and was finally found in the boot of her employer's car. Indianexpress.com has not yet been able to verify this claim. She is currently in hospital undergoing treatment for her wounds, the post adds.
Guards Of Mahagun Mordene In Noida Sector 78 Fight With Villagers