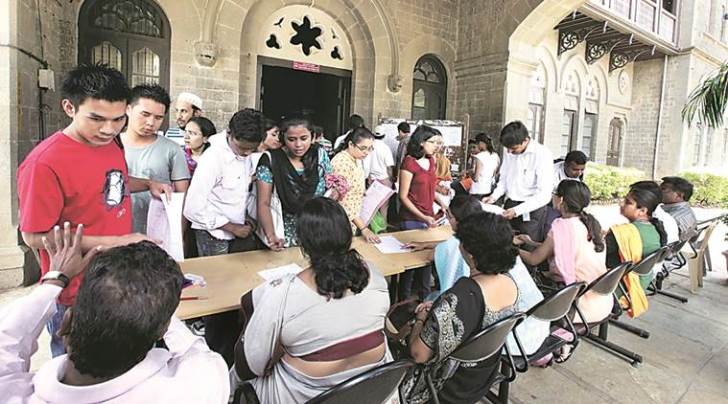 With the final round for the Central Admission Process (CAP) for First Year Junior College (FYJC) admissions drawing near, an analysis of the admission-related data has revealed some shocking facts. The CAP committee has found that of the 267 junior colleges in Pune and Pimpri Chinchwad that have 584 divisions, at least 64 have not received even a single admission this year.
And at least an equivalent number of junior colleges have received less than 20 admissions for a batch of 120 capacity, making it unviable to run these batches. With no takers for these seats, there is a strong possibility that the divisions may now ordered to be shut down.
The analysis has come in just before the last round of FYJC admissions, after which there would be no further round. With a miniscule percentage of students now remaining for admissions, neither CAP officials nor junior college authorities have any hope for improvement in the situation.
Contrasted with this situation are the figures of zero vacancies, that is, divisions with 100 hundred per cent admissions which stands at 105, most of which are from the top colleges in the city. According to authorities, most of these are new institutes or got late approval to their divisions after the completion of first few CAP rounds, which resulted in students not choosing these colleges in online forms.
Assistant director of education and CAP official Meenakshi Raut confirmed the same, stating that zero admissions have taken place in 'high school-attached junior colleges' where the division size is less than 80 students.
"It is a serious issue that 43 divisions offering arts, science and commerce courses have got zero admission. Many of these divisions are in high schools that got new approval for junior college or additional divisions given to existing batches.
What happens when they join in later in the admission process is that by the first few rounds, students have decided on preferences and they don't choose these colleges then. Also, since junior colleges are new, infrastructure and other issues persist. But what is more shocking is that there are 21 vocational courses, for which there were no takers anywhere.
These Minimum Competency Vocational Courses (MCVC) courses were introduced as an alternate to the traditional arts-science-commerce courses as a more job-oriented course, but it seems there are no takers for it," she said.
According to the rules, CAP committee officials will now prepare a detailed report and send it to the state education ministry for action. Raut said the rules state that if a particular aided division or course does not have any admissions for two consecutive years, then it should be recommended for shutdown. In fact, even if a college does get admissions, but if they go below a prescribed limit for two consecutive years, then it should be recommended for shutdown too.
"In high school-attached junior college, division size is 80 and there should be minimum 20 admissions there while for a junior college attached to the senior college, the division size is 120 and there should be minimum 50 admissions there. This is only for aided colleges since teachers salaries and grants come from government, which is why we review admission data. In case of self-financed and unaided divisions, the institutions take a call on whether to shut them down or not," said Raut.
Most of the new colleges expressed helplessness at the development. "We received the approval for our divisions very late and by the time we joined in, the fourth CAP round was happening. Even students of our school had taken admission in other allotted junior colleges. Since the system has moved online, we cannot take admissions at the college level and through the online process, we lost out since we came in late," said the principal of a high school in Bibvewadi area.
However, in case of some junior colleges, the situation hasn't changed much in the last couple of years. At Bavdhan's Arihant College, very low admissions have been a persistent problem despite major infrastructure overhaul, said director Shailesh Pagariya.
"Students have to cross a highway to reach our college and that's why parents fear sending students here. Since we are not yet in PMC limits, there is no public transport bus facility. The college has arranged for vans to pick up and drop students from different locations, but I think we lacked in doing proper publicity. Last year, we got smart boards and state-of-the art laboratory and though the numbers improved a bit, it is still way below the expected mark," admitted Pagariya.
["Source-timesofindia"]